Québec City, 28 September 2015
International Conference on Image Processing (ICIP) 2015
1,350 Image Processing Researchers in Québec City
From September 27 to 30, the Québec City Convention Centre welcomes the 22nd edition of ICIP, IEEE's International Conference on Image Processing, one of the largest international conferences dedicated to technologies for processing images and videos.

Québec City will host more than 1,300 delegates from over 60 countries, among them prominent researchers. Corporate partners in the domain will be present, including Google.

Key technology in areas as diverse as digital television, medical imaging and smart phones, image processing is at the heart of many recent applications that continue to revolutionize daily lives.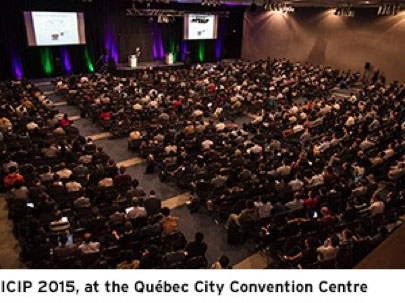 About IEEE
IEEE is the world's largest professional association dedicated to advancing technological innovation and excellence for the benefit of humanity. IEEE and its members inspire a global community through IEEE's highly cited publications, conferences, technology standards, and professional and educational activities.
---
Québec, 28 Septembre 2015
International Conference on Image Processing 2015
1350 chercheurs en traitement d'images réunis à Québec
Le Centre des Congrès de Québec accueille, du 27 au 30 septembre 2015, la 22e édition de ICIP, la IEEE International Conference on Image Processing, une des plus grandes conférences internationales consacrées aux technologies de traitement des images et des vidéos.

Technologie clé dans des domaines aussi variés que la télévision numérique, l'imagerie médicale ou les téléphones intelligents, le traitement des images est au cœur de nombreuses applications récentes qui continuent de révolutionner notre vie quotidienne. 

La conférence ICIP verra converger vers la capitale 1300 délégués, originaires de plus de 60 pays, qui sont d'éminents chercheurs et des grands noms de l'industrie. Les partenaires corporatifs majeurs du domaine, incluant Google, seront présents.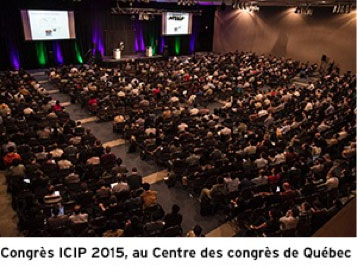 À propos de IEEE
L'Institute of Electrical and Electronics Engineers (IEEE) est la plus grande organisation professionnelle à but non lucratif au monde. Ses 430 000 membres, représentant 160 pays, consacrent leur énergie à la mission de l'organisation : l'avancement des technologies pour l'humanité. L'IEEE compte également plus de 120,000 membres étudiants, publie 180 revues et journaux, sponsorise 1 600 conférences et génère près du tiers de la littérature mondiale dans les domaines reliés à l'électronique et au génie électrique, de même qu'aux ordinateurs et au génie logiciel.